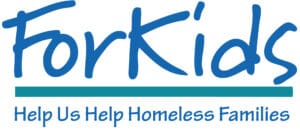 ForKids was born in Norfolk's Ocean View neighborhood almost 30 years ago when parishioners at Holy Trinity Catholic Church discovered families coming to their food pantry were sleeping on church grounds and local beaches. Holy Trinity partnered with 12 other Ocean View churches to found "Homeless Haven," incorporated in the City of Norfolk on   May 16, 1988. The agency's sole program, "an emergency shelter facility which will serve the homeless," called Haven House, opened the very next year on D View Avenue and still provides assistance for over 200 people each year.
Today, ForKids is one of the largest providers for homeless families in Virginia, touching over 37,000 lives annually through its holistic housing programs and extended services for families.
With a mission of breaking the cycle of homelessness and poverty for families and children, ForKids is more than a safety net. Our full spectrum service model simultaneously identifies the compound root causes of each family's homelessness and improves mental health, education, employment and personal obstacles with supportive services culminating in self-reliant families with permanent housing.
Photos from ForKids